KU ARMY ROTC HOSTS 27th ANNUAL RANGER BUDDY COMPETITION
The 27th Edition of KU's Ranger Buddy Competition was held at Clinton Lake on Saturday 8 April. 170 two-person teams from 43 separate universities from across the country closed on Lawrence to determine which teams had the grit and skill to compete and win in a grueling competition.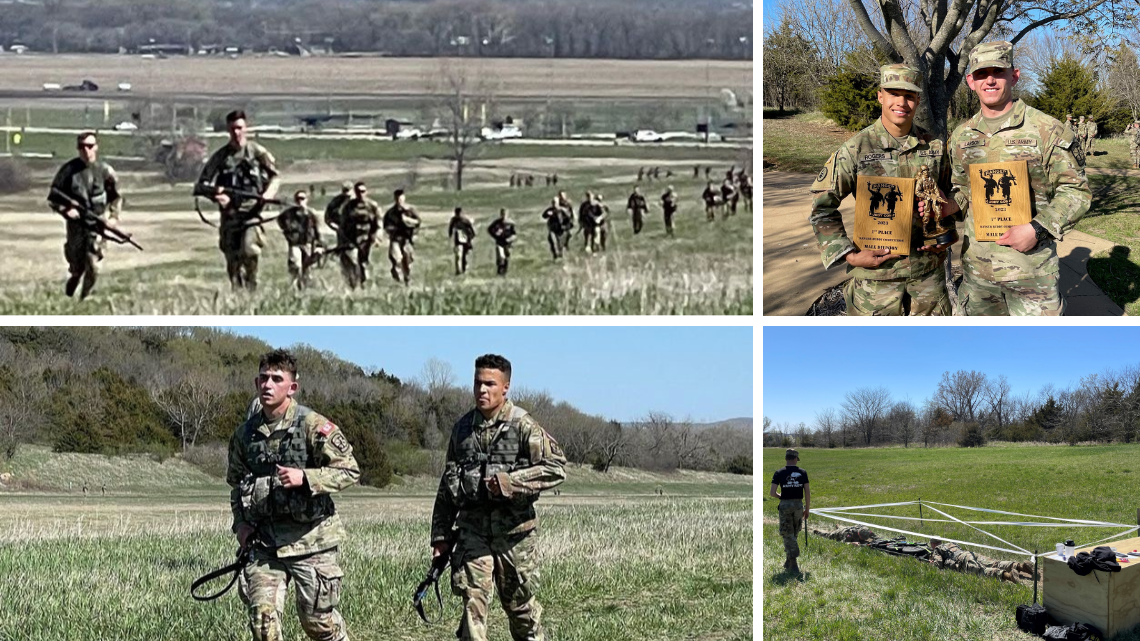 ROTC Ranger Buddy Competition 2024 
Hosted by KU Army ROTC
06 April 2024
Ladies and Gentlemen,
The Jayhawk Battalion will host the 28th Annual KU Army ROTC Ranger Buddy Competition (RBC) on 06 April 2024 at Location Sesquicentennial Point between 0630-1830.
3rd BDE Programs can enter up to 3 male, 2 coed, and 2 female teams all other Programs can enter up to 2 male, 2 coed, and 2 female teams.
Mission: 3rd Brigade conducts Ranger Buddy Competition under the direction of the University of Kansas' Jayhawk Battalion in Lawrence, Kansas from 05-06APR2024 to physically and mentally challenge competitors, build confidence, and Espirit de Corps across Cadet Command.
Registration Window: OPEN                                                                   
Registration: Cadets may register at the link from now until 27MAR24.   
*Programs are responsible for all travel and lodging.  
Please direct all questions to: CPT Travis Emery, travis.emery@ku.edu or via cell at 801-735-4553
Timeline:               
16 NOV 23- Registration Link Open
o/a 12 JAN 24- Operation Order Published
27 MAR 24- Registration closes
05 APR 24- Coaches Meeting
06 APR 24- Ranger Buddy Competition
 
ALL INFORMATION CURRENT AS OF: 16 NOV 2023
Updates 
1520 Summerfield Hall DR, Lawrence KS 66045
RBC 23 Ruck Route GPX file (.gpx)
RBC 23 Ruck Route Bit File (.fit)
​Helpful Information
Ranger Buddy Competition OIC