Lawrence Jenkins
---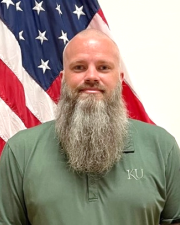 Scholarship and Admissions Officer
Recruiting Operations Officer
Social Media Manager
Website Administrator
Contact Info
Military Science Building, Room 204
1520 Summerfield Hall Dr
Lawrence, KS 66045
---
Biography
—
Mr. Lawrence Jenkins is a retired U.S. Army veteran with a distinguished 24-year service record. Having retired in September 2020, he brings a wealth of experience and expertise to his current role as a member of the Jayhawk Battalion.
Previously, Mr. Jenkins served as an Assistant Professor of Military Science at Providence College in Rhode Island and as an Army JROTC Senior Instructor at Alvarado High School in Texas. In May 2021, he joined the Jayhawk Battalion with a clear mission: to recruit high-quality Cadets and demonstrate the invaluable benefits of ROTC and service to the nation.
Driven by his goals to enhance recruitment efforts and maintain the Jayhawk Battalion's status as one of the nation's premier Army ROTC programs, Mr. Jenkins actively engages with students, parents, and friends, offering valuable insights and answering any questions they may have.
With his passion for guiding and mentoring future leaders, Mr. Jenkins is dedicated to fostering a larger class of exceptional Cadets each year. By promoting the values and opportunities afforded by the Jayhawk Battalion, he aims to inspire young individuals to embark on a rewarding journey of service to their country.
Feel free to reach out to Mr. Jenkins with any inquiries or to learn more about the transformative experiences that await within the Jayhawk Battalion